Information privacy is a major concern for many internet users. A Pew Research Center study found that 86 percent of them have taken at least some steps to protect themselves online, whether by encrypting their email, using virtual private networks or clearing cookies off their browsers. More than half (55 percent) had taken steps to avoid surveillance by particular people or organizations.
Moreover, according to a different Pew report, a majority of Americans are skeptical of the security and privacy measures of the search engines, online video sites, social media networks and advertising platforms they engage with around the web. With trust running so low, what steps can they take to feel more confident in their digital activities? Here are four actions to take today:
1. Avoid public Wi-Fi networks
The risks of public Wi-Fi are underestimated by the public. An online survey of over 1,000 U.S. consumers by a security vendor found that 87 percent of them had used public Wi-Fi, and 60 percent thought that their information was safe while using these open networks.
Accordingly, they often perform sensitive activities such as logging into online banking, email and social media accounts. However, traffic over a public network is not encrypted and can easily be intercepted. It is important to consider using a VPN to shield your actions from prying eyes.
2. Use disposable email addresses for signups
When you sign up for an online service such as Netflix or a forum, you usually have to supply your email address. This might seem like an innocuous request, but it can open you up to some serious spam in the long run. If your inbox begins filling up with marketing emails from sources you have never interacted with, the signup may be to blame.
Fortunately, there are options. Disposable email address generators can give you an address to enter for each site, without the flurry of unwanted emails that might otherwise clog your inbox. Note that many of these services automatically delete emails sent to their domains within a few hours.
Disposable email addresses help protect your privacy.
3. Do not post sensitive information to social media
Many people treat their social media accounts like diaries and post all sorts of sensitive information like photos from vacations, news about their jobs and medical or legal advice. These disclosures can backfire.
For example, telling everyone when you are going on vacation is a risk to your physical security, since it alerts anyone who reads the post to the fact that you are not at home. Likewise, providing medical or legal counsel can endanger someone's well-being. Think carefully about what you share and how public it is. Since most social media is free, you also can never be 100 percent sure that your information is not for sale to advertisers.
4. Be careful who you interact with
Someone just friended you on Facebook. Should you accept? Even if the name and photo appear familiar, you should double-check the profile and confirm with the person – by another channel, if possible – that he or she is actually someone you know.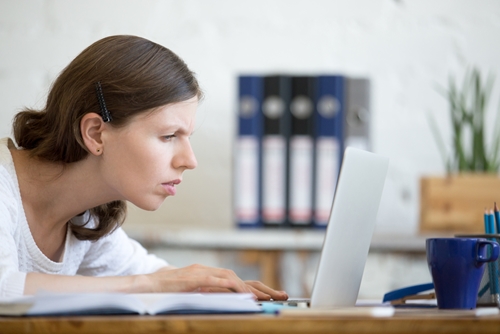 "Someone just friended you on Facebook. Should you accept?"
The rationale here is simple: You could be at risk from a stalker or identity thief. The situation could also expose you to a scam or malware infection. Never friend someone sight unseen. Be circumspect and assiduous in who is allowed to see your activity, if only to prevent the risks outlined in item number three above.
As you use social media and other websites, be sure that you have the right practices and tools to lean on. VPNs, disposable email addresses, security software and close attention to detail are all necessary for preserving your privacy on the internet.