Skype fraud in Russian language
I can speak several languages; one of them is Russian.
Recently, I've received the same message from two of my friends via Skype.
Now I want to warn Skype users and tell them that this was a fraud.
This is how the message looked like: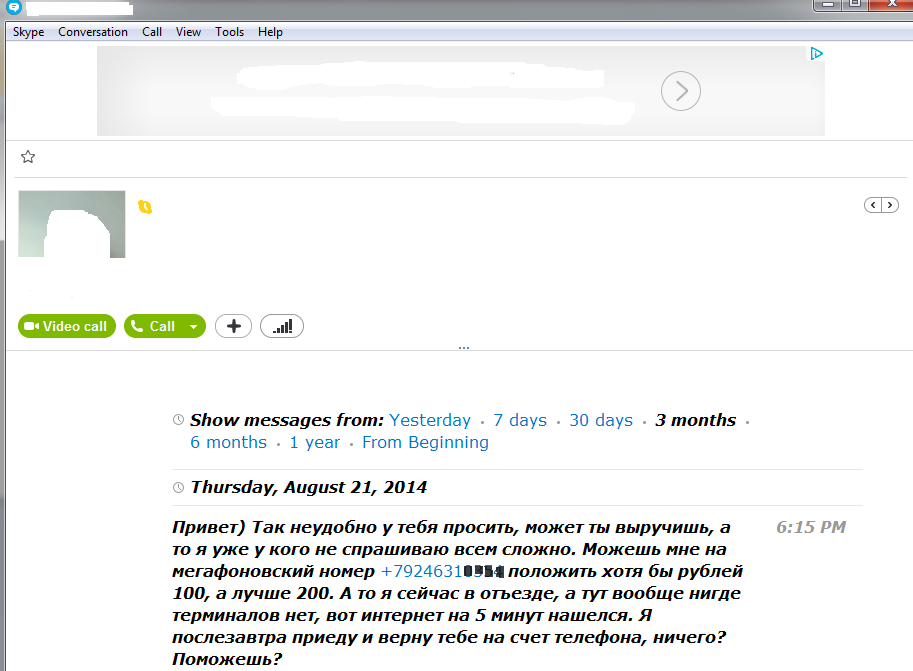 The English translation:
"Hi) so uncomfortable you ask, can you help out, because I don't ask anyone anymore because the complexity.
Can you (put to) my number +79246310XXX at least 100 rubles, and the best 200.
Because now I'm away, and there is no terminals nowhere, now internet for 5 minutes was found.
The day after tomorrow I'll come and give you back on the phone bill, is this fine? Can you help?"
Immediately I've realized that this is fraud and not real message, so I've notified the senders about this.
Apparently, they sent the same message to all their contacts in Skype.
In this specific case, both friends used same password for their Window OS and for Skype.
Most likely, the passwords were stolen by cybercriminals.
The account that supposed to receive the money definitely belongs to criminals.
Theoretically, huge number of Malware can steal passwords from victims computers.
Skype users must be aware of messages that they send and receive.
I haven't seen the same fraud messages in other languages, but anyhow, the number of Skype users is huge and translation is simple.
So it might happen.
Might happen via Skype, might happen via any other messenger or any other type of communication.
Our responsibility to be careful with our money as we usually are.
Just in case that your Skype (or any other program) sends messages without your approval, good idea will be immediately to change your password/s, and scan your computer for any threats.
And of course, do not forget to notify all receivers from contact list that your message is fraud.
By Alex Polischuk.