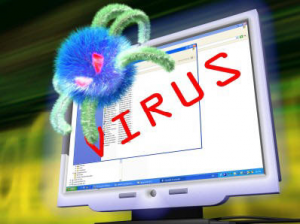 Signs and symptoms are first things noticed in case of biological virus infection.
Doctor's questions and notifications are about symptoms and signs of the patient.
Sign and symptoms are mechanisms to discover an infection as well as distinguish between different infections.
While we are talking about cyber infection, things are a little different.
Malicious software and unwanted software (Trojans/Worms/Viruses/Adware/Spyware etc.)  usually attempt to use stealth mechanisms to cover their malicious tasks.
But sometimes, operation system have those signs and symptoms upon infection.
Although these signs could mean anything and we could not be certain right away, we start investigating upon each sign.
The very first sign would be the detection by computer security program.
Anti-Virus, Anti-Spyware and other security applications may produce all kinds of alerts and notifications as well as very informative reports (on demand and in real-time) that will annoy us about anything suspicious within the system.
Any unusual behavior of the system may also be the symptom of infection.
Here are some common examples:
1.  System works slow : slow performance and slow boot up (then computer starts slow).
2.  System freezes up : nothing you can do except physical reboot/shut down.
3.  System instabilities : such as spontaneous restart(reboot) or shut down (computer crash).
4.  Inability to access your own files, folders and drives: access denied messages or execution errors.
5.  Appearance of new files (folders, drives). As an example: unwanted shortcuts on your desktop. Files that created without your knowledge.
6. Disappearance of files (folders, drives). Some of programs may be deleted, for example computer security programs.
All icons may disappeared upon infection by one of the variant of "Win32/Zemot" Trojan:
7. Icons confusions: when icons are mixed up: icons of programs look differently than before, drive icons look like folder icons, file icons look like  folder icons etc.
7. Messages: Pop ups , errors, alerts and warnings.
It's impossible to show all examples on this matter because they just too many.
In general, very suspicious messages are :
If the message is not identified  by name of any program you use
If the message asks you
–          for personal information (or any information ;-))
–          to install additional unknown programs (for instance security applications)
–          for money! (especially for money)
8. Homepage change:
"Homepage" of the browser is the page (site) that comes up automatically then you first open the browser window.
Sometimes malware change this page to different web site.
9. Browser redirection – this happens during various infections, then browser affected by Malware opens unwanted web sites.
10.  Email spamming – unwanted emails are sent and received without user approval.
11. Toolbars on your browser that you did not install: Unwanted icons on browser's toolbar.
12. Disabled functions : some of the programs will not work. Most likely those programs that can discover infection or fix/clean infected system.
13. Programs messed up : sometimes affected programs will be messed up and will be operated in unexpected/unwanted way.
There are few quick tests that you can do if you use Window operating system, just to see if some of your functions are disabled or messed up.
But this story is for another blog.
The bottom line for this blog is that there are 13 symptoms of infection.
Appearances of each one of them is a good reason for further investigation and a scan.